Power Finance Corporation Limited has launched its issue through its shell prospectus for upto Rs 5,300 crs. The issue has opened on Thursday the 24th of February and closes on Tuesday the 22nd of March.
| | |
| --- | --- |
| Size of Issue | Rs 5300 crs in one or more tranches |
| Face Value of each bond | Rs 5,000 each |
| Lead Managers to the Issue | ICICI Securities Limited |
|   | SBI Capital Markets Limited |
| Lock in Period | 5 years from deemed date of allotment |
| Trading | After expiry of lock in period at the BSE |
| Isssue Opening Date | Thursday 24th February  |
| Isssue closing date | Tuesday 22nd March  |
| Ratings | LAAA from ICRA and AAA/Stable from CRISIL  |
| Bidding lot size | Minimum of 1 bond and I bond thereafter |
| Interest on Application Money | 5.5% per annum  |
| Interest on Refund Amount | 4% per annum |
| Interest Frequency | Annual or cumulative options |
| Buybak Option | Available |
PFC is a Government owned company which went public in February 2007. The public shareholding is 10.22% while the Government holding is 89.78%. The original issue was at an issue price of Rs 85. The company is looking at launching its FPO in the first quarter of 2011-12. The present equity of the company is Rs 1147.77 crs and the market capitalisation as of Friday the 25th of February was Rs 28,401.57 crs based on the closing price of Rs 247.45 on the BSE.
The company had made a profit of Rs 3,017.29 crs for the year ended March 2010 and the profit for the nine months ended December 2010 was Rs 2,727.53 crs.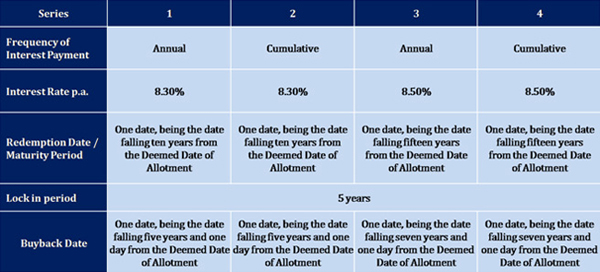 PFC is offering two schemes with 10 years and 15 years maturity. These two duration period bonds come with an interest payment of annual and cumulative. The bonds would be listed for trading after the mandatory lock in period of five years expires. As of date these bonds are offering the highest interest rates on the section 80 CCF bonds.