Rs 193-203 with discount of 5% to retail and employees
Power Finance Corporation Limited announced the price band for its follow on offer which opens on Tuesday the 10th of May and closes for QIB's on Thursday 12th May and for non QIB bidders on Friday the 13th of May. The price band is Rs 193-203. There would be a discount of 5% for retail investors and eligible employees.
The issue consists of a fresh issue and an offer of sale. The total issue size is 22,95,53,340 Equity Shares which comprises of a fresh issue of 17,21,65,005 shares and an offer for sale by the Government of 5,73,88,335 Equity Shares.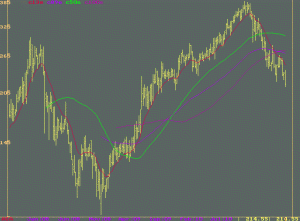 The share closed for trading on the BSE on Friday the 6th of May at Rs 214.55. The discount being offered at the lower price band is Rs 21.55 or 10.04% and Rs 11.55 or 5.38% at the upper end of the price band.  Retail investors and eligible employees would be offered a discount of 5% on the final price band fixed.
If one were to look at the weekly price chart the share price has been falling continuously for almost 10 months now and has literally become half. The price band offers scope for appreciation from these levels.
The size of the issue would be Rs 4,430.38 crs at the lower end of the price band and Rs 4659.93 crs at the top end of the price band.
Related Posts: