Samvardhana Motherson Finance Limited which is tapping the capital markets with its IPO completed allocation to anchor investors at a price of Rs 115 today. The IPO consists of a fresh issue of shares for Rs 1,344 crs and an offer for sale of Rs 321 crs, making a total of Rs 1,665 crs. The price band is Rs 113-118. There is a reservation of 5% of the total issue size for shareholders of MothersonSumi Limited.
The net issue would therefore be Rs 1,581.75 (1665-83.25) crs The QIB portion of the net issue is 50% and upto 30% of this allocation may be made to anchor investors. The reservation permitted was therefore Rs 237.26 crs. The allocation to anchor investors was of 1,93,06,900 shares at Rs 115, or a total of Rs 222.03 crs, implying therefore that there was a small deficit in the anchor allocation. SMFL has allotted these shares to 16 entities but of these 16 they can be easily divided into four entities namely First State Investments ICVC, IVY Pacific Opportunities Fund, Birla Sun Life and Government of Singapore. The allocation to these four entities is 35.10% to Government of Singapore, 24.77% to Birla Sunlife, 23.42% to Ivy Pacific and the balance 16.68% to First State Investments who maintain their depository account with The Royal Bank of Scotland.
The message going out from anchor investors is that within the price band they push the price towards the lower part of the band or at best midway. In the recent case of TBZ it was at the lowest price and in the case of SMFL it is a shade lower than midway.
The complete list of anchor investors is given below: -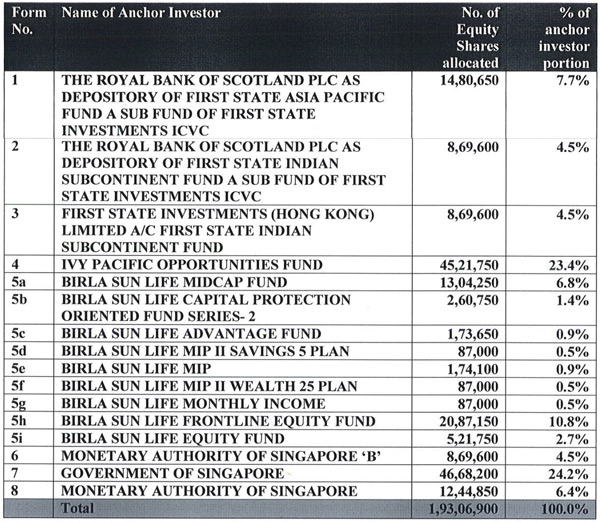 Related Posts: